26.04.2021
PRESS RELEASE
Mr. Christos Dimas, Deputy Minister for Development and Investments visits Gizelis Robotics.
Main agenda the productive Smart Factory transformation in the era of Industry 4.0.
The premises of Gizelis Robotics in Schimatari were visited by the Deputy Minister of Development and Investments, Mr. Christos Dimas, on Monday, (26/04/2021). Mr. Dimas was welcomed and toured the production lines and the R&D sites of the factory, by Mr. Evangelos Gizelis, Founder and President, Panagiotis Lagios, CTO and Gerasimos Gerolymatos, General Manager of Gizelis Robotics.
Mr. Dimas's visit at Gizelis followed his recent visit with the Prime Minister to Calpak's state-of-the-art "smart factory", which bears the unique technological robotic systems signature of Gizelis Robotics. The Calpak plant, with its integrated robot systems and cobots that have literally transformed the production process, is one of the Industry 4.0 projects that Gizelis Robotics runs in the Greek and international market. The representatives of Gizelis Robotics had the opportunity to present all the company's advanced technological achievements, in the fields of industrial automation, robotics and artificial intelligence.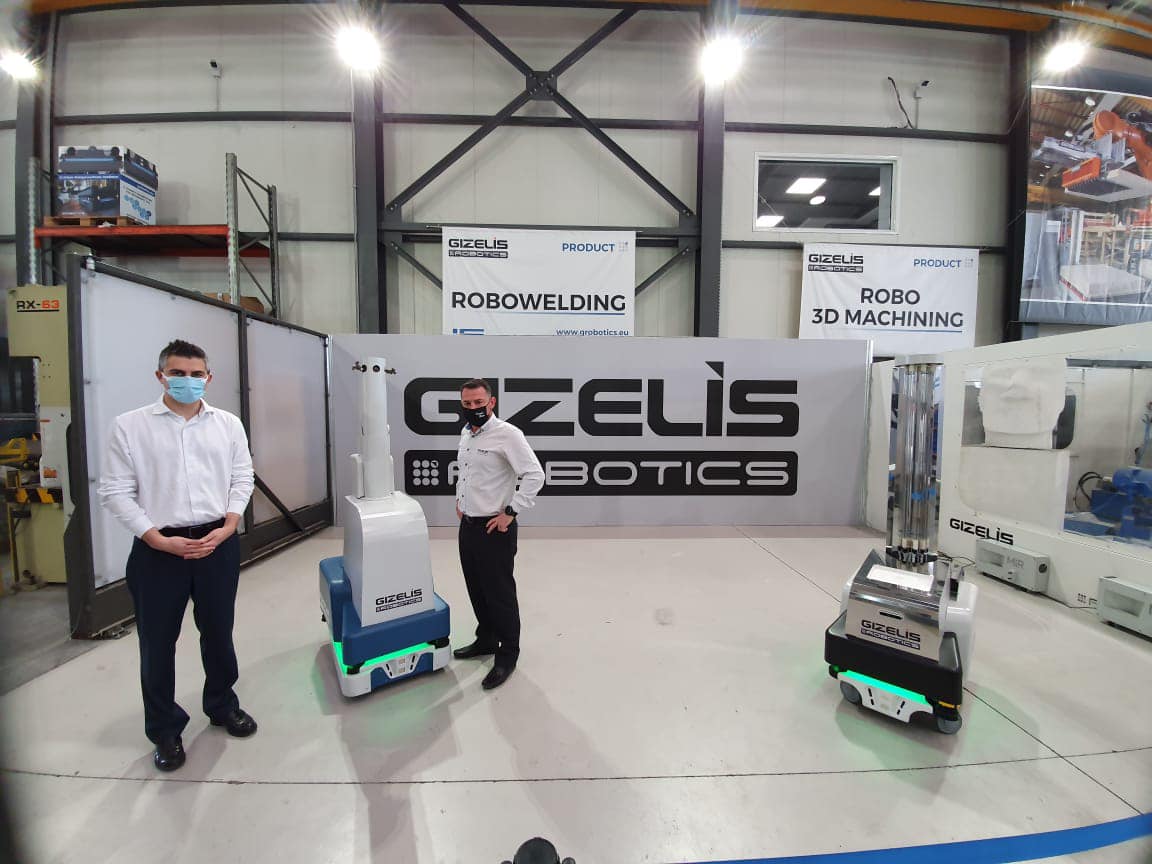 The "Made in Greece" cutting-edge products and smart technologies developed by the company -as highlighted- place it today at the heart of the technological developments of Smart Manufacturing internationally. Proof of the company's excellence is the constant investments in human capital and new technologies that have brought it out, among other things in the 5th fastest growing start-up of robotics on a global scale. Gizelis Robotics is also developing in the Greek international market a state-of-the-art range of collaborative, autonomous mobile robots that upgrade the production capacity and material management capacity of companies in sectors such as industry, retail, logistics, etc.
Gizelis Robotics has also used its valuable know-how and has launched in the Greek and international market the new innovative and certified autonomous mobile germicidal robots ROBOTSAFE™, with fogging and UV-C ultraviolet radiation technology, aiming to address the urgent health conditions created by the covid- 19 pandemic.
Christos Dimas, Deputy Minister for Development and Investments, stated: "I visited the premises of Gizelis Robotics, which specializes in robotics and artificial intelligence. Applying the latest automation technology creates, among other things, autonomous collaborative robots with an innovative combination of sensors, cameras and data that interact with the environment and humans. The company has gained very significant exports momentum, developing cutting-edge technologies."
Mr. Evangelos Gizelis, Founder and President of Gizelis Robotics stated: "We were delighted to welcome the Deputy Minister today to the "house" of Greek robotics, in Schimatari. We explained that our management and employees with unwavering faith in the subversive power of robotics and its applications, and with deep respect to our customers, have made Gizelis Robotics a leading integrator of robotics systems and high-tech automation applications that our country now addresses to the global industry. On the occasion of today's visit, we invite industries and productive forces to implement the productive transformation in terms of Industry 4.0."smart factory manufacturing".
GIZELIS ROBOTICS
Industrial & business robotics excellence
Gizelis Robotics is the most modern robotic solutions company in Greece, offering products and solutions in a variety of industrial applications. It provides both unique and on-demand robotic solutions as well as combined robotic and artificial intelligence solutions for the Greek and international industry.
BROOKSTREET EQUITY PARTNERS LLP
BROOKSTREET is Gizelis Robotics strategic partner. A unique, commercially motivated and flexible Private Equity/Venture Capital (PEVC) investment group supporting companies which experience transformational growth. Our mission is to be "the leading investor and partner for innovative, profitable, high-growth and extrovert small-cap (SME) out-performers". Based out of London (the bridge of the world) we outreach USA, Europe, Middle East and Asia. We seek opportunities in asymmetric (emerging and developing) markets where we have a distinct competitive advantage to apply Anglo-Saxon models of growth and expansion. Currently we are very active in SE Europe.

GIZELIS ROBOTICS