Innovative robotic solutions for the food industry
presented by Gizelis Robotics at FoodTech 2021
With innovative robotic automation solutions for the food industry, Gizelis Robotics participated in this year's international FoodTech exhibition, which took place from 12 to 15 November at the Metropolitan Expo exhibition centre in Athens. The solutions presented at the exhibition by the Gizelis Robotics team attracted interest and impressed visitors, who had the opportunity to learn about the innovative products and applications the company offers to the dynamic food industry.
Specifically, robotic solutions for handling, pallet management, food sorting, and palletizing boxes were presented, such as:
MIR PALLET LIFT 1000-AUTONOMOUS INDUSTRIAL PALLET HANDLING ROBOTS
MOTOMAN MH5 + MOTOSIGHT 2D-ROBOTIC FOOD SORTING SYSTEM
AGV-AUTONOMOUS PALLET HANDLING VEHICLE
COBOT STANDARD PLUS-ROBOTIC BOX PALLETIZING SYSTEM
CELL PALL DUAL-ROBOTIC BOX PALLETIZING SYSTEM.
The ROBOTSAFE™ range of autonomous disinfection robots was also presented:
ROBOTSAFE™ DRY FOG -AUTONOMOUS ROBOTIC DISINFECTION SYSTEM
ROBOTSAFE™ UV-C -AUTONOMOUS ROBOTIC DISINFECTION SYSTEM,
ROBOTSAFE™ Tower UV-C DISINFECTION, ROLLING RINSING SYSTEM.
Gizelis Robotics is currently the largest integrator of robotics systems and high-tech automation applications in our country. The company provides robotic solutions as well as combined robotics and artificial intelligence solutions to the Greek industry and foreign markets. Gizelis Robotics, recognized as one of the TOP 5 start-up robotics companies in the world for industrial applications, produces today innovative -made in Greece- cutting-edge technology and constantly upgrades the integrated "smart manufacturing" solutions it offers to the market, making the productive digital transformation a reality, in terms of Industry 4.0.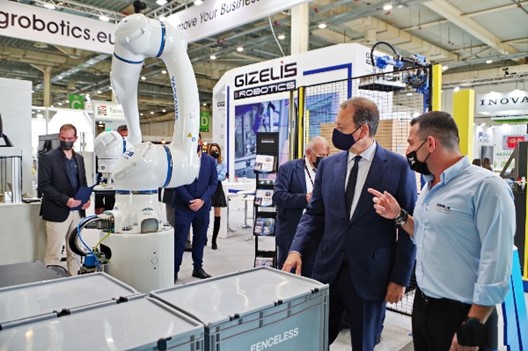 Gizelis Robotics's MD, George Braimis, stated: "This year's FoodTech was a successful and safe event and we wish to congratulate the organisers. We were very satisfied presenting our extensive robotic , logistics and sterilizing solutions portfolio to high ranking executives, as well as to experts from manufacturing and supply chain who honored us by visiting our stand having specific and focused issues to discuss. We were happy physically meeting again with our customers and seeing new potential ones, and we strongly believe that we have initiated new collaborations for the near future. For Gizelis Robotics, where we offer customized technological solutions to problems our partnering customers face, Food Tech was an important exhibition showcasing the technical superiority in the solutions we offer"